Contributed by Clifford E. Keller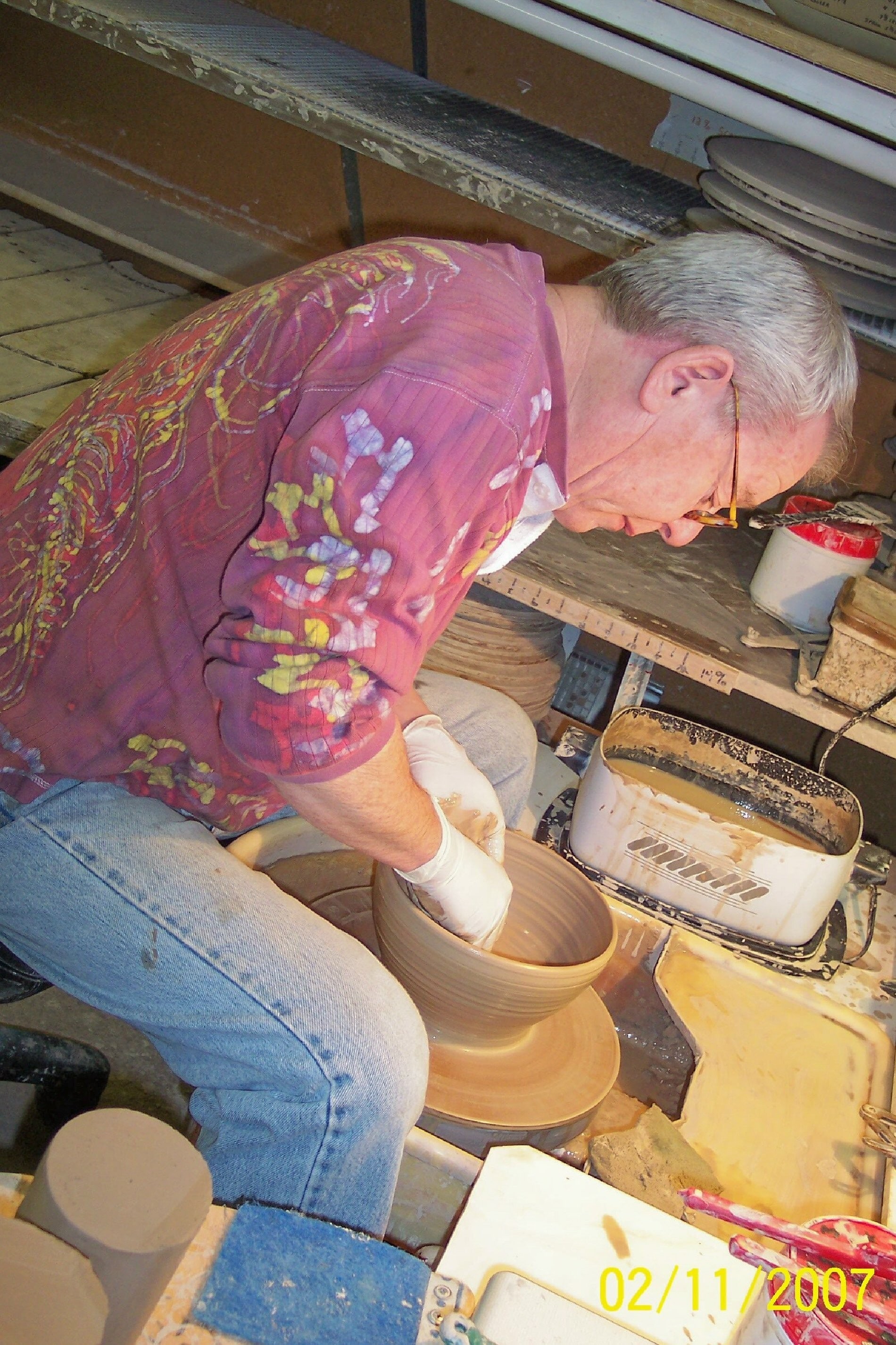 Mandan potter and ceramic maker Bill Baron chased the "ideal" red pottery glaze for over twenty years before he found it. The red glaze that he sought and developed is the result of some two hundred experiments and it can best be described as a "hard and rich" red that seems to draw you into the piece. The new red is prominently included in Baron's latest pottery lines which have evolved greatly over a thirty-nine year pottery career.
Bill and his wife Gail live south of Mandan in a chalet like home with open views of their horses and a backyard full of pools and streams. A separate building houses Bill's studio, kilns and other pottery making equipment, products and inventory. Examples of his pottery and a good friend's artwork are liberally displayed throughout their comfortable and inviting home.
Gail, who recently retired from teaching, taught English at South Central High School in Bismarck and prior to that time she taught at Mandan High School. Bill, also retired from teaching, most recently taught art at Century High School in Bismarck and prior to that, taught industrial arts in Wisconsin.
He holds a B.A. in art and art education and has no formal pottery training although he did study under Paul Soldner and David Leach, a well known English potter. Soldner is considered by many to be the father of contemporary raku pottery. While at UND he did sign up for a class in pottery in the Engineering and Mines Department taught by Margaret Pachel and not realizing he was caught in the middle of a departmental rivalry and after several pottery class sessions and one piece of pottery, he was subtly advised by his art department advisors to stick to art classes and forget about the pottery classes. As a result his pottery making career, with exception of occasional seminars, is the result of self education and trial and error as he concedes that many pieces have been "thrown over the hill" over the years. He does recall a rather unusual incident while he was a student at the University of North Dakota. There was an old storage building on the grounds of the house that he and several of his student roommates were renting. They explored the storage building and found what they later used as clay pigeons while practicing for the upcoming hunting season. It seems that the 100's of make shift "clay pigeons" that they used for target practice were actually unmarked UND "Fighting Sioux " Medallions.
While teaching in Wisconsin, he and his students "fired" some pots but his pottery making did not really begin until he was back living in Mandan when a friend gave him an old sump pump and he turned the pump upside down and added an electric motor and made his first pottery wheel. Shortly thereafter, he sent for a potter's wheel kit from California at a grand cost of $220.00.
Mr. Baron has 6 electric and gas-fired kilns and their use is dictated by the type of pottery being fired and is he is busy designing a seventh. He stated that his pottery is the result of the mini-environment that is created in the kilns and drying ovens. For his production work or standard pieces, the electric kiln is preferred because of the ability to duplicate similar firing conditions over and over because an electric kiln is a true self-contained environment while a gas-fired kiln which requires constant monitoring to adjust exhaust gases, etc, is used more often for special or one-of-a kind pieces. He adds that while a gas fired kiln is more difficult to operate it, nevertheless, produces more dramatic glaze development than is possible in an electric kiln because it is more efficient in drawing the oxygen out of the glaze. Whenever a firing is underway, he and Gail are present throughout the entire firing process to make adjustments and record information.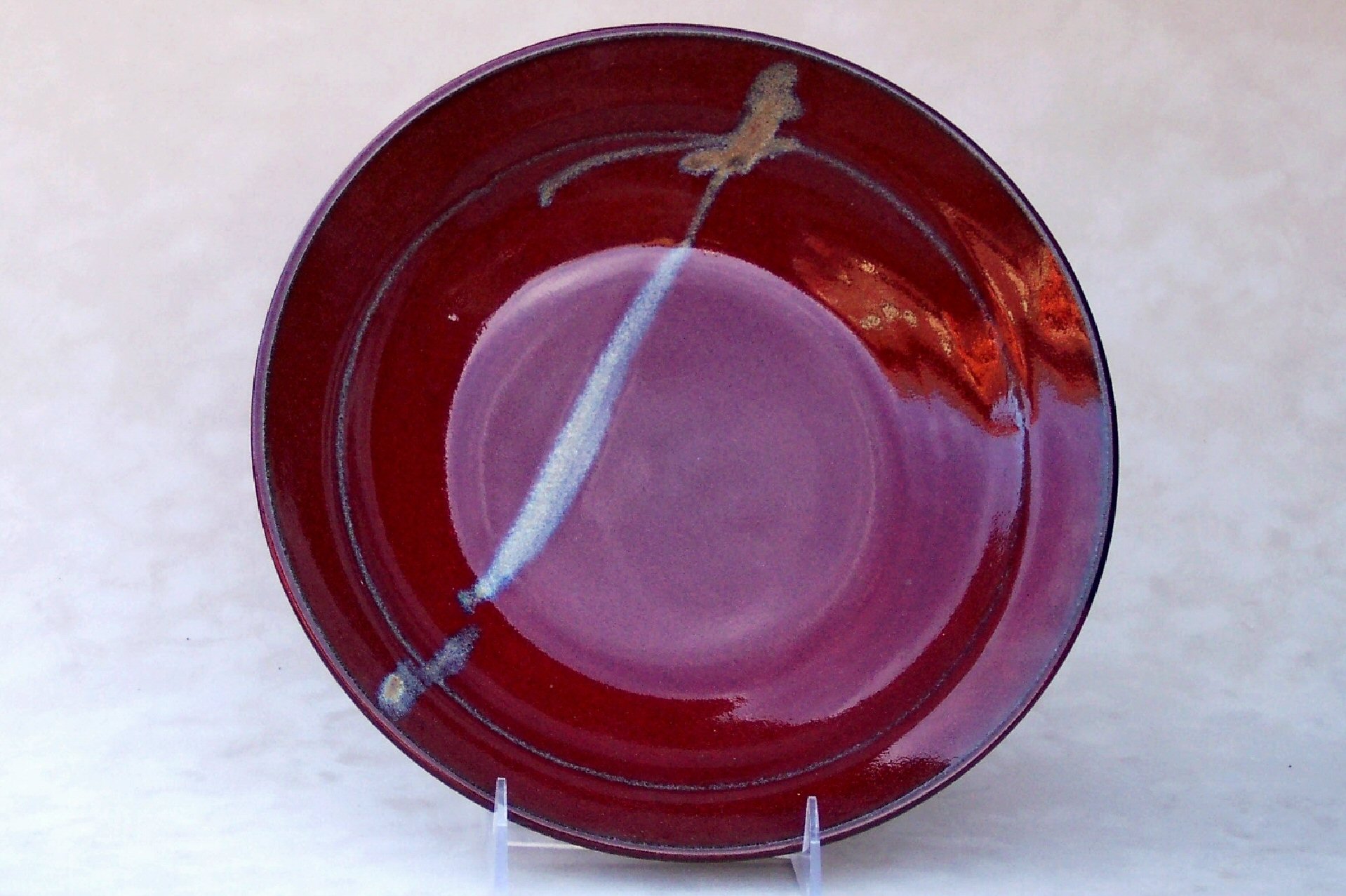 In the beginning, his pottery and ceramic career produced extra income to supplement their teaching salaries. Their marketing consisted mainly of traveling and showing at twelve to sixteen shows a year, most of them in Montana, Minnesota, South Dakota and Wyoming. One of those shows is in Spearfish, where the Barons have exhibited over the past twenty-eight years. Some of his regular customers include the North Dakota State Historical Society, Wall Drug in South Dakota and the Minnesota State Historical Society. The Barons are planning to cut their show schedule back to three or four shows a year as Bill would like to spend more time making larger and more unique pieces on a commission basis and also show his work at some of the larger and more exclusive shows and galleries. While he does spend time in his studio every day, Bill remarks that being retired usually means being busier than when he was teaching. Bill uses several types of clay for his pottery. He prefers a standard mix for his standard production lines while for his special one of a kind pieces, he uses a clay mixture of his own design and development. He has spent a great deal of time developing his own clay mixture which is configured for its malleability, texture, and ability to produce the various glazes he looks for. He has had limited experience with North Dakota clays due to the large amount of mica which in turn causes some firing problems, Many of his glazes are developed from the oxides he collects in the North Dakota Badlands area. His production pieces are fired at a lower temperature; at about 1600 degrees F. for 8 hours while his gas fired kilns are operated at a temperature of 2250 degrees F. for 14 hours. The first firing sets the shape of the piece and the second firing sets the glaze that is being applied. The drying process usually takes another 24 hours to complete.
One of his earliest and most recognizable standard lines is the wheat pattern. The line, which is copyrighted, proved to be very popular during North Dakota's Centennial celebration. The wheat pattern line can be identified by the imprint of a wheat head in the piece. An actual wheat head is used during the process and a special glaze is used. Interest in the wheat pattern waned as did interest in the Centennial, but according to Mr. Baron, the wheat pattern is making a strong resurgence. While interest in the wheat pattern pottery was waning, his green and blue colored pottery pieces sustained his pottery operation. At the present time many of his one of a kind and commission pieces contain the special red glaze he pursued for so may years. His pottery is marked "Baron" in handwritten script on the bottom of the pieces. Some pieces also list the year and "Mandan, ND". His present pottery pieces contain more carving and etching than was seen in his earlier pieces. He is developing a technique that uses horse hair and buffalo hair which in turn produces a very unusual and striking design on the piece. Contrary to what you might think, the buffalo hair is markedly thinner than horse hair and the buffalo hair produces a very fine lace-type design on the piece.
Looking back over his career, Baron wonders about the impact of not being formally taught but at the same time wonders if a formal education might have inhibited his desire to try new techniques He has taught pottery and ceramic making to several of his students and according to him – several of them are doing quite well. When asked what he collects, he indicated he is always looking for pieces with special glazes and admires Japanese and Korean pottery mainly for their use of shapes.
Listening to Bill talk about his love of pottery, the listener is keenly aware of his enthusiasm and intensity. He says it will take another hundred years for him to try all the new things he wants to try. On behalf of an appreciative public, we hope his goals are realized. While public acceptance of his work is appreciated, he is first concerned with the piece meeting his expectations because if it doesn't, it might end up being thrown "over the hill".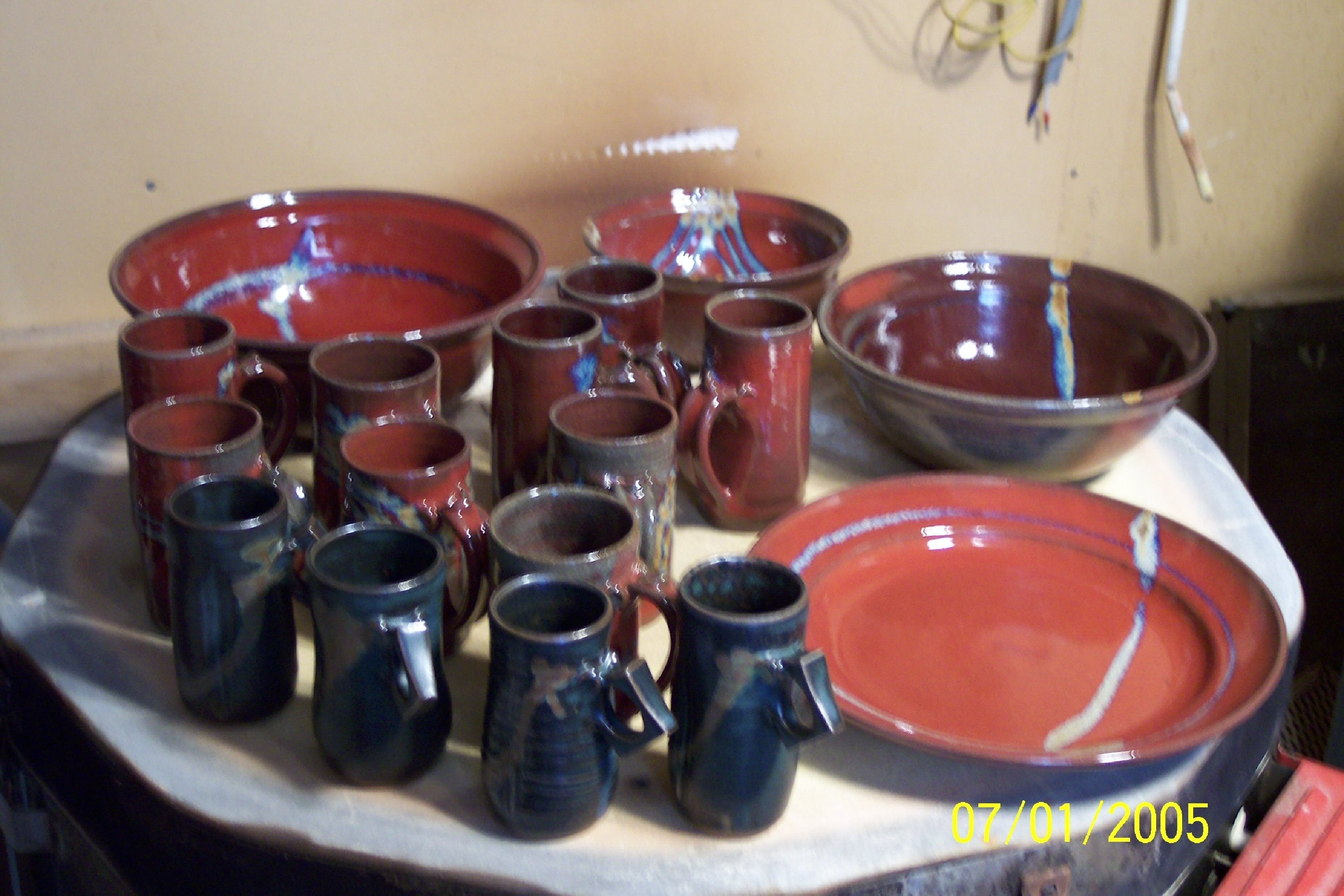 Addendum: Bill Baron passed away on June 13th, 2015.